Buy a star Now
How much is it to buy a star?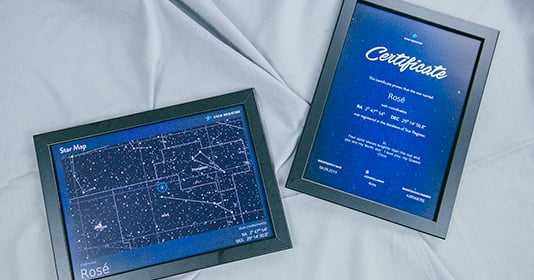 Price for registring a star can be different based on the package you select. Star Registrations price range starts from 29.90$ to 89.90$. Every Star Registration package includes a record in the SREU register, a unique certificate, and a star map that helps you locate your star.
As we know, most gifts can be costly, but this gift will blow your mind because it is both - cheap and affordable. As well as meaningful and beautiful. We all want to be stars and have one for ourselves someday, and now we can! You can buy and name a star in our private International Star register, which has one of the world's biggest and oldest databases. Buying a star is a very affordable gift as it starts from $29,90. That will have eternal emotional value, and as long as you live here under this sky, your star will whine right above you.
Cost of Star Registration gift packages
The night sky is full of wonders. If you don't believe it, look up at the sky, and you will be convinced. In the Universe, there is an answer to all your troubles. Right there, in the stars, hides the guide to your perfect gift. In fact, the star itself is a gift that you can buy for someone special.
You can really get a star only for $29,90 (including shipping) with super-fast e-mail delivery (24 hours). Yes, it doesn't cost that much money to buy a star, and for this little investment, you will have yourself a star—a certificate with all your registration details and Star Map with your star's exact location and coordinates. You will also have an entry in the star registry, where you will see the star name you have chosen to buy.
Our second most popular Star Registration gift package includes all the registration documents. What is more, you can pay a little extra and get a physical Star Registration gift set sent to you. Not only will you receive a certificate as proof of your registration and Star Chart electronically. But we will also print the documents on high-quality luster paper, insert them in an elegant gift folder and ship it securely to you. This star package will cost you only $39.90.
If you want to buy a star in the sky in a specific zodiac constellation, we advise you to choose a Zodiac Star gift package. You can select your favorite constellation visible worldwide, and we will assign you a star only for $54,90. This means you will have a bright star in the well-known constellation that you will easily find.
There are also exclusive Binary Star gift packages when you are looking for a bit more romantic gift set to impress your significant other. Where you receive two gift sets for the same price - $89.90. A binary star is a system of two stars that revolve around each other. This is the part were science becomes sentimental. Because, from a great distance, it will look like one giant star, where in fact, two separate stars have almost collided.
Buying a star is an inexpensive way to show high emotions. Even the International Astronomical Union (IAU) would agree to this statement. Also though they do not offer to register a star, we are the ones that do. The cost to buy a star is very affordable, and you will have a magical gift set that will amaze the sense out of the receiver. This gift is really out of this world. Star buying is an excellent opportunity for those astronomy geeks and stargazers out there who always dream of the night sky. You can buy and name a star on our site, and it will be registered in the Official International Star Registry. This is an extraordinary gift!