Buy a star Now
What is a star certificate?
Every one of us has a dream. Some seek the clarity of the mind, others' recognition, and fame. However, these things can be combined, and we can have something meaningful and approved. One manifestation of these aspects is a certificate.
Above all, a certificate is a document that proves the authenticity of something. Official certifications are issued by institutions or organizations that aspire to recognize specific processes or things.
Star Certificate is an official organization, as well. But unlike many others, we have extraordinary service which helps people keep their dreams and gifts original. On our website, everyone can name a real star online. This is a fantastic opportunity.
Star catalog has a private, online database for star naming. Thus, when someone names a star, we record it in the database, and as proof of this act, we provide a document with all the factual information.
Star Certificate includes not only the star's name but even shows the actual coordinates for your star. Additionally, this certificate has all the essential and generally accepted details used all over the world. For instance, the certificate registration number, and name of the institution provided it.
Personalization of star certificate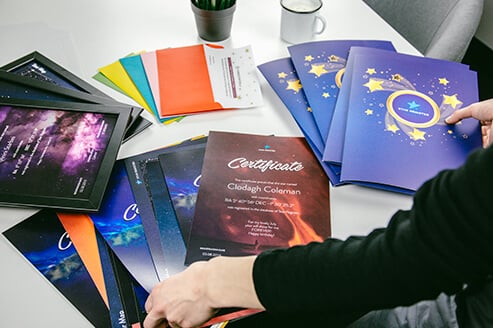 Most of the documents you have seen probably look a little dull and impersonal. But how can something that comes from the cosmos be casual? Therefore, all the star certificates have an artistic and neat design with customization options to really bring out the magical feeling in you.
Every one of us is a little bit different and has a specific taste. Given that, there are six design variations of the star certificate, so everyone finds the most beautiful and pleasing style.
Another excellent customization option is a personal message. In four blank lines, which will appear on the certificate, you can pour your heart and soul out. If you want to with a happy birthday or express your feelings - this is the space. Keep in mind that every loving word will light up the sky.
When you have a star name and a heartfelt message, you can also choose your star's constellation. To make your star gift more personal, you can have a star in that special person's zodiac constellation. This way, you will show how well you know the people around you, and your gift will stand out in affectionate style.
You, your loved ones, and the stars... We are all a part of the same UniverseUniverse. That's why Star Certificate offers one of the most personal gifts there is - to strengthen the bond with a starry sky.
Star Gift package documents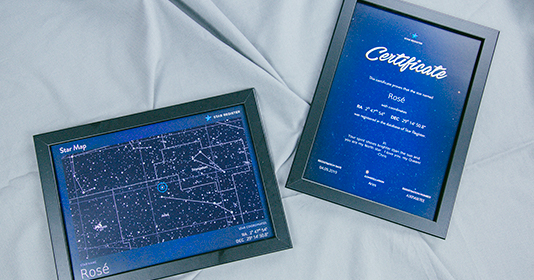 Now we know that you can name a real star in the sky for someone and receive the star certificate. Additionally, with the official proof of registration, you will receive Star Map as well.
Star Map illustrates the position of your star in a particular constellation. Using coordinates, you will be able to find your star in various applications and programs. But with Star Map, you also receive the exact placement of your star.
For everyone who gets excited about stargazing, the Star Map will be an adventure. Imagine that you and your best friend (or lover, or both) snuggle under a blanket under the open sky. You have a hot tea in a thermos and love for the UniverseUniverse. Now you can use the Star Map, and both try to locate the star with your name written all over it. What a lovely way to spend a night.
What's included in the Star gift pack?
Star is a perfect gift created from quality materials, so you can receive precisely what you were expecting. If you don't believe these words, consider the comments of our customers and read the reviews.
Official Star gift package:
Registration in Star Name catalog, which is everlasting.

Beautiful and personalized Star Certificate.

Star Map with the location of your star.

Fitting frame for the certificate.

Instant PDF of Star Certificate
Dare to dream and love the stars, because one day you will have your own. Maybe today?