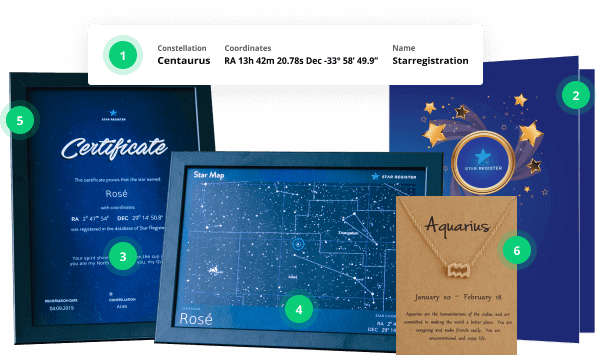 In the star gift package you will receive:
1Registration in Star Register - an entry in the online star catalog
2Star Folder - covers your gift in the atmosphere of the space
3Star Certificate - provides the name of the star, your personal message, and official details from the Celestial Name Database
4Star Map/Star chart - shows the exact location and coordinates of your star
5Optional: Frame - make your gift even more special with a matte black frame
6Optional: Constellation pendant - add gold pleated zodiac necklace in the recipient's zodiac sign
Important! Take into consideration the location of the recipient. It is sufficient to get a standard or a bright star if the recipient of a gift will be observing the star in the night sky in a place without a lot of illumination. If the recipient will be watching the star from an area with a lot of lightning around, it's better to pick a very bright star.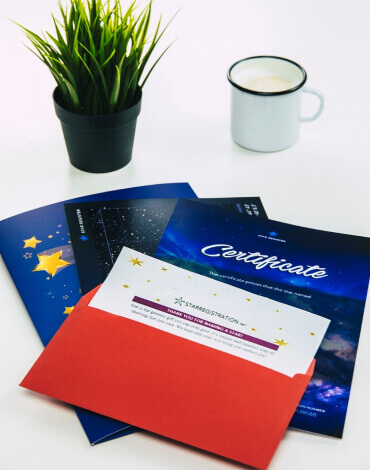 What do you get when you buy a star?
We offer three different packages from which you can choose when you buy a star:
Standard star gift package – you get a visible star, which you will be able to see from anywhere in the world throughout the year.
Zodiac star gift package – you can select a zodiac star that matches the zodiac sign of the recipient or specify the constellation of the star.
Binary star gift package – you get two stars that revolve around each other. Perfect for couples, twins, etc. You will receive two star gift packages.
You can personalize your gift even more after you choose the package. We offer several star certificate designs and a couple more ways to make that gift special.
Buy a star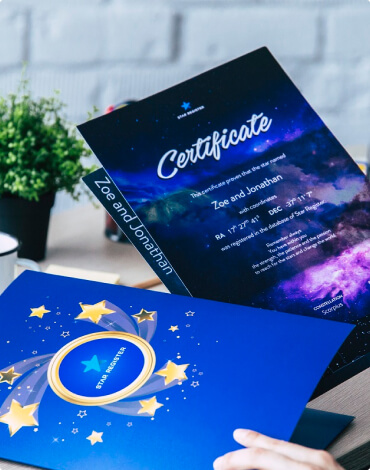 Can you buy a star?
It's impossible to buy a star with legal rights because nobody owns the stars. But you can buy a star in an official private database without having absolute physical rights on these celestial bodies.
Are you looking for a perfect gift? Then search no more, you have found it – buy a star. You can buy it for yourself or as a gift for someone else.
For years we could only dream about owning the stars. It still is not legally possible because no one owns the stars, but we have the next best thing. We offer you a gift service to buy a star without absolute, physical rights on these celestial objects.
Not even the International Astronomical Union (IAU) can offer you something better because they only work for scientific purposes. Nor can NASA, because they too work to explore space.
The following means you will have a star, but you do not own it in legal terms. You can buy a star from us and name it as you wish. We`ll catalog your star in the official private database, and you will receive the Star Gift documents in return.
Buy a star
How to buy a star?
You can buy a star in a few simple steps – fast and easy. You need to follow these directions:
01

Choose offer

Go to our website and choose the offer that you like the best

02

Name your star

Name your star (that will forever become its identification)

03

Customize Certificate

Add personalized message and design for your Certificate

04

Customize star

Decide star brightness degree and specific constellation for your star
05

Choose delivery method

Depending on how fast you want to receive your order, choose delivery method

06

Proceed to checkout

Add your star to Cart and proceed to Checkout

07

Fill data

Fill in delivery and billing information

08

Place an order

Place an order
You're done and the star is yours
If this process is too confusing, you can also watch our simple video.

Still have questions? Contact us!

Still have questions? Contact us!
What is the best place to buy a star?
When you search in Google "buy a star", you will find several companies that offer you to do that. It's essential to do your research before you choose from who you will buy a star.
Make sure that the website looks real, well thought out, and with qualitative content. Check the reviews not only on the company's website but also on the web in general. The cheapest is not always the best when you look at what you get. The same goes for the most expensive(it doesn't mean the best).
Ensure that the offer meets your expectations and quality and the delivery doesn't cost you a fortune. Be smart about your choice, and don`t be afraid to take your time or get in touch with customer service to find out more. Check out our website and offer. You won't be disappointed!
Reasons to buy a star
There are thousands of stories and fairytales about the magic of the stars. They are the symbol of something magnificent and, at the same time, unreachable. We can`t take a star and put it in the bag. But as the saying goes - If the hill will not come to Mahomet, Mahomet will go to the hill(Francis Bacon). It is your chance to go to the stars and become a part of them.
Reviews from our customers
Frequently asked questions
You can't legally buy a star because nobody owns them. We offer you a gift service to buy a star without absolute, physical rights on these celestial bodies. Previously mentioned means you would have a star, but you do not own it in legal terms.
It depends if you are giving this star to yourself or someone else. You need to think about the person you are giving the star to and name it after you or them or something important to you or them.
It's one of the best ways how to show someone how much you love them. It's a special, meaningful, and unique gift that will stay with the receiver forever.

Still have questions? Contact us!