How to name a star?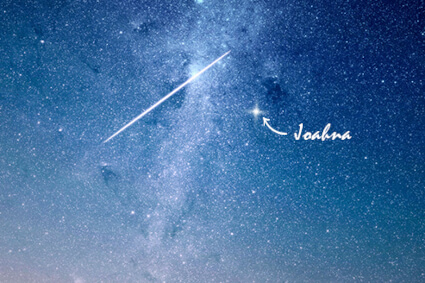 What is a star naming?
People often believe in the magic of the names. Sometimes when we assign a name to something, it starts to feel like this thing is part of our lives because we know how we call it. The same goes for naming a star - just as you attach certain words to a real star in the sky, it can is counted as yours. Star name has a special meaning that only you truly understand, so it makes this unique connection between you and this heavenly object that shines upon your head.
One of the organizations that names star for scientific purposes is the International Astronomical Union; however, their star catalog names aren't creative. IAU assigns star names depending on their coordinates and internal counting system. For example, AJ+7652 is the most common format for stars. You might also disagree because there are several stars with names. For instance, Vega is the brightest star in the Lyra constellation. Although these are official names, they have been assign in ancient Greece by astronomer Claudius Ptolemy he recorded the names of stars from many cultures. These names are still used today as part of historical legacy.
If you aren't a member of the IAU or have no powers to change history, star naming might seem impossible. Nevertheless, if you want to name a star online, you should turn to us: an official star naming service that offers to record a star in a private database. With us, you will find the best place to name a star, and you can be as creative as you want.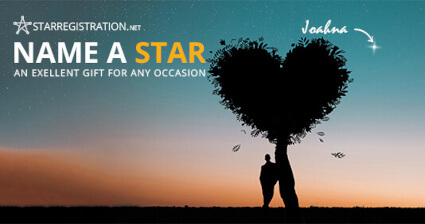 How does star naming works?
Every hour somewhere in the world, a star is named. If you have chosen the Starnaming gift service for this delicate matter, we almost instantly assign you a star on al the parameters you have left us. To illustrate this, let's imagine that you chose a star in the Ursa Major constellation. Yes, you can also select the constellation yourself if you want. In other cases, we will assign the constellation depending on your location, so you can always find your star. You have decided that this star will be named "Anna&Hubert" to illustrate that special bond you have named a star for someone dear to you. Then, we receive your order and manually assign you a bright star. After that, you will receive an order confirmation as well as access to your electronic documents. And you will have a unique ID number, which you will type into the official database and see your star "Anna&Hubert" written in the night sky.
How to name a star?
Naming a star is a beautiful idea. We just made it easier for you. Follow this step by step guide on how to do it.
Decide which kind of star you want to name. There are three options: standard star, zodiac star, and a binary star.
Once you've decided which star suits you the most, proceed by pressing the 'Name a star' button under the name of the star you have chosen.
It would be best if you filled in info like - Name of the star, certificate design you like, date of the record, a personal message to go on the certificate, and the star's brightness.
Delivery takes about 3-8 business days after fulfillment. You can also choose the 'Last-minute gift option 'to receive your purchase via E-mail within 24 hours.
When you have placed an order, we will assign you a star and generate your Star naming documents. You will receive Star Certificate and Star Map in your e-mail together with your invoice (in less than 3 hours). We assign only visible stars depending on the location you have stated at the checkout - so you can quickly locate your star.
If you have chosen a physical gift package, you will also receive shipping details and tracking information. On average, it takes us from 1 to 3 business days to prepare the product individually and ship it. Still, more than half of our products we ship out within two or even one business day.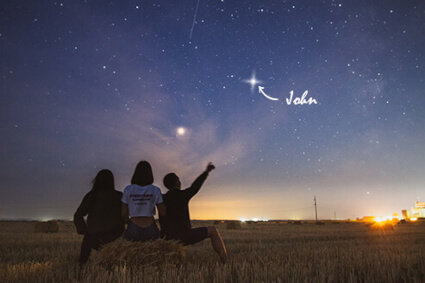 Is star naming legit?
In not so far, future space travel will be possible. Otherwise, all the predictions from sci-fi movies would be useless. Probably the idea of getting some part of the Universe wouldn't be such a bad idea. Most people admit that a property on the Moon would probably be too fancy and boring for their taste. But how about a beautiful, cozy place on the star? Well, I have got to upset you, my gullible friend, you can neither buy land on the Moon nor a place for yourself on the star. If, for one second, you thought this was possible, please, read further.
Star naming is a gift service that offers people the possibility to name a star without real, physical rights on these celestial bodies. When you name a star, you do not own it. The same goes for marriage; imagine that you could marry the Sun. Would it be acceptable to count your newlywed wife/husband (who knows) as a possession? Of course not! Keep that in mind.
We provide a possibility to name a star, and this gift brings more emotion and novelty into this world. You can now name a star and give it to someone on birthday or engagement and even as a Christmas gift. Anyhow, naming a star can be a great gift either way. Also, if IAU is too stubborn to see it, this gesture can create a lot of joy. And isn't this the most important thing of all?
Is it possible to name a star after someone?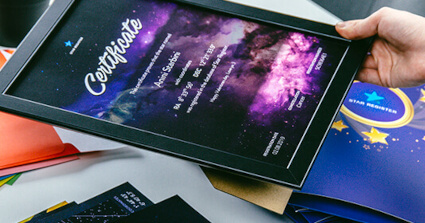 Star is the ultimate gift. You can name a star in the sky for yourself - if you feel like it, arrogance is your middle name. Or you can name a star as a fantastic gesture for someone special. You have to come up with the name of this star together or on your own.
You can use the name of that particular person or even nickname or significant numbers that only have meaning between you two.
When in doubt about your gift, it is always better to search for profound ways to surprise someone.
Naming a star after someone is a truly unique gift and shows your affection in a Universal sense. Give the gift of starry skies!