Buy a star Now
Can you really own a star?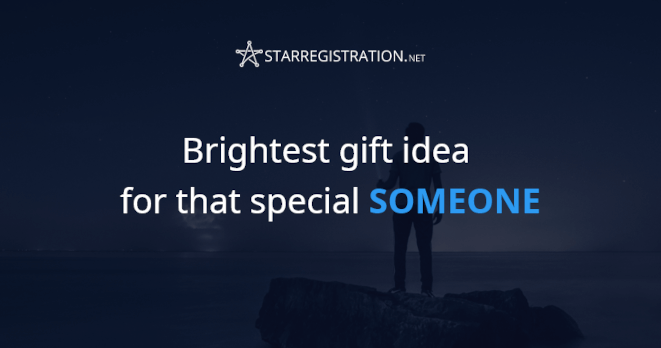 Brightest minds in history have always wondered about the starry sky. Albert Einstein could explain the relativity of time but never grasped why stars excite the humankind as much. "Look to the stars and from them learn" is one of the most famous quotes from A. Einstein and probably the most sincere idea ever.
Star registry is the legit and official organization that allows people to register stars all over the globe. Nowadays, star registration is the most innovative gift service for all the people who are sick of getting the same boring things for their loved ones. Additionally, the only institution that enumerate stars for scientific purposes is the International Astronomical Union, which does not allow regular people to interfere in the naming process. However, Star Register stepped up and changed this situation, allowing to have any star in the sky for someone in the private, secure database.
Let's clear something up. No one can possess a star in outer space or have some legal ownership upon it. That is not how the star registration works; also, it takes out the magical quality of this service. When you own a star as a gift with StarRegistration.net service, you have named it in the International Star database. Therefore, your star isn't like any other property. It has new identifiers - name (selected by you), registration number (assign by us), and coordinates (based on accurate sky maps). We make sure that every registration is unique, and you can always locate your star in our catalog.
Be a part of eternity: own a star
Universe unites every person in a significant way, mostly because we all have extraordinary stories about the stars and constellations in the night sky. These moments and all the memories have made us into who we are. Then why not identify yourself with the star from the same Universe?
Most of the possessions in our lives can quickly disappear, get lost, or even be taken away. Thus, it is much smarter to get something that is timeless and unique: own a real star. Now you can have something genuinely supreme - a piece of the Universe named after you that will never perish. Is there any better investment for all the stargazers out there? Just look up at the night sky, and you will know the answer instantly.
Star Registration is an entirely unique service that allows anyone in the world to register star online that will be a part of your home's favorite sky view. It doesn't matter if you are from India or the USA, from the Netherlands or Australia - stars are around us all. Moreover, you can get your own star fast and easy with no effort whatsoever and have it eternally.
How to own a star?
Space is the most challenging topic in scientific circles. One hypothesis denies another, but one is for sure, every detail regarding this scope is under NASA's supervision. Even though NASA is a very influential and quite complex institution, NASA has never offered star-naming services. Nonetheless, Star Registration filled this spot and took this responsibility to spread joy while allowing everyone to own a star in the sky.
Owning a star is a lot easier than it might seem. To get your own star, you need to follow these steps:
Look through our offers in order page and choose the best star gift package for you. Standard Star in regular southern/northern constellations, Zodiac Star, which is visible all over the world or Binary Star gift package with two stars revolving really close to each other.

You can choose right away to either receive only e-mail delivery (nothing is shipped by mail) or physical delivery option receiving digital copies as well as hard copies of documents delivered right to your doorstep.

Then it is time to give your star a name, come up with an inspiring personal message (which will appear on the certificate). Decide on the Certificate design, select the date of registration and choose how bright you want your star to be (from average brightness to really bright star). Also, it is possible to pick particular constellation; otherwise, we will assign you a star in random constellation depending on your location.

Add your star to Cart and proceed to Checkout.

At the Checkout, you should fill in your personal data, delivery information, and payment information. Select the delivery method which suits your expectations and review your order info.

If everything is perfect and no changes are needed, 'place your order.'
Everything afterward is our responsibility. We will instantly assign you a visible star, which you will receive in your e-mail within 5 minutes, along with your Star Certificate and Star Map. And if you have any alterations in mind regarding your star registration, our customer service will be there for you 24/7.
Your own star gift pack
When thinking about the perfect gift option, we all have the same essential characteristics in mind: reasonable value, meaningful intention, and uniqueness. Star Registration fits into this category entirely as it is a really cheap gift option that no other gifts can be compared to.
It is rather affordable to own a star, as you can choose a star gift pack that suits your budget. For those who are in a hurry, but still want to give something meaningful, e-mail delivery option with standard star registration for 29,90$ is the best option. You can print it yourself at any time, and you won't even have to wait 5 minutes to receive your star registration documents.
However, there is an option for the old-souls and people who prefer having hard copies of documents as well. Starting from 39.90$, you can have a visible star that you will forever assicuate with someone special. Additionally, you will have a Certificate and Star Map sent to your home. Moreover, you can upgrade your documents by adding a fitting frame, so you won't have to hunt down the perfect frame for particular paper size, and the gift will look more classy and elegant.
There are times when we want to initiate joy like never before for someone truly amazing. In this case, there is the most exclusive gift package to star enthusiasts and night sky lovers. Binary Star gift package gives a chance to own two stars only for 89.90$ - this is a gift filled with love and romance. You can show how close you are with someone by using the simile of the night sky: we are like a pair of stars that share the same orbit.
This is a creative and affordable gift option, you can own a star without any additional efforts for the rest of your life. The connection with the Universe that will never fade: your own star.