Top 5 Christmas Gifts for Star Gazers
Sunday, December 17, 2017 9:25:33 AM America/New_York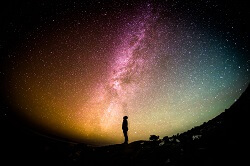 The most memorable Christmas gifts are undoubtedly those brought with us in mind. For those who love staring up at the stars, these top 5 Christmas gifts and stocking fillers are the perfect accompaniment to their next astronomical adventure…
Galaxy Inspired Accessories


With the Galaxy trend still going strong, there is plenty of opportunities to shop online for star, space and galaxy inspired gifts. For example, the Galaxy watches at New Look provide a new way to appreciate the starry skies; with designs from scattered stars to star sign constellations.
Black Strap Gemini Star Sign Watch, £10.49, New Look
Name a Star Gift


One of the most unique Christmas gifts you can buy for enthusiastic stargazers, is to name a star after them. This memorable gift lasts a lifetime, with the name being entered onto the official Star Registry, so it's officially theirs forever. Explore online shops such as Star Registry and get a Zodiac pack, standard star gift or binary star gift and they can look out at their very own shining star.
Star Certificate, from £23.92, Star Registration
Telescopes
One of the first things we think of when it comes to astronomy and stargazing is likely telescopes. Although this piece of equipment can be pricey, when you buy online at places such as My Favourite Voucher Codes you can save on even the most high-quality telescopes. This Deluxe Telescope from Menkind for example, has incredible clarity and even comes with an app map for every star in the sky.
Star Finding Deluxe Telescope, £49.99, Menkind


Outdoor Clothing
Exploring the starry night skies can be an incredible experience, but on those cold winter nights it's vitally important to wrap up warm. Shop from trusted outdoor retailers such as Blacks, where you can get quality outdoor clothing including this Regatta 3 in 1 Jacket, with a warm fleece and waterproof outer shell. The best part is – it's now 50% off!


Regatta 3 in 1 Women's Jacket, £50, Blacks
Trip to the Northern Lights
This breath-taking, once in a lifetime experience is perfect for those who are fascinated by the wonders of the night sky. The amazing natural light show would of course be a bit more costly than some of the other stocking filler gifts, however with places such as lastminute.com you can enjoy a 3-night stay including flights for just £219 per person.
3 Nights in Iceland to see the Northern Lights, £219 Per Person, lastminute.com
Whether you are shopping for a main gift such as an awe-inspiring holiday, or a super stocking filler such as a galaxy inspired accessory; there are a massive range of gifts perfect for budding astronomers. Make this Christmas shine and treat your loved one to a gift they will never forget.
---
Back to blog