Print Quality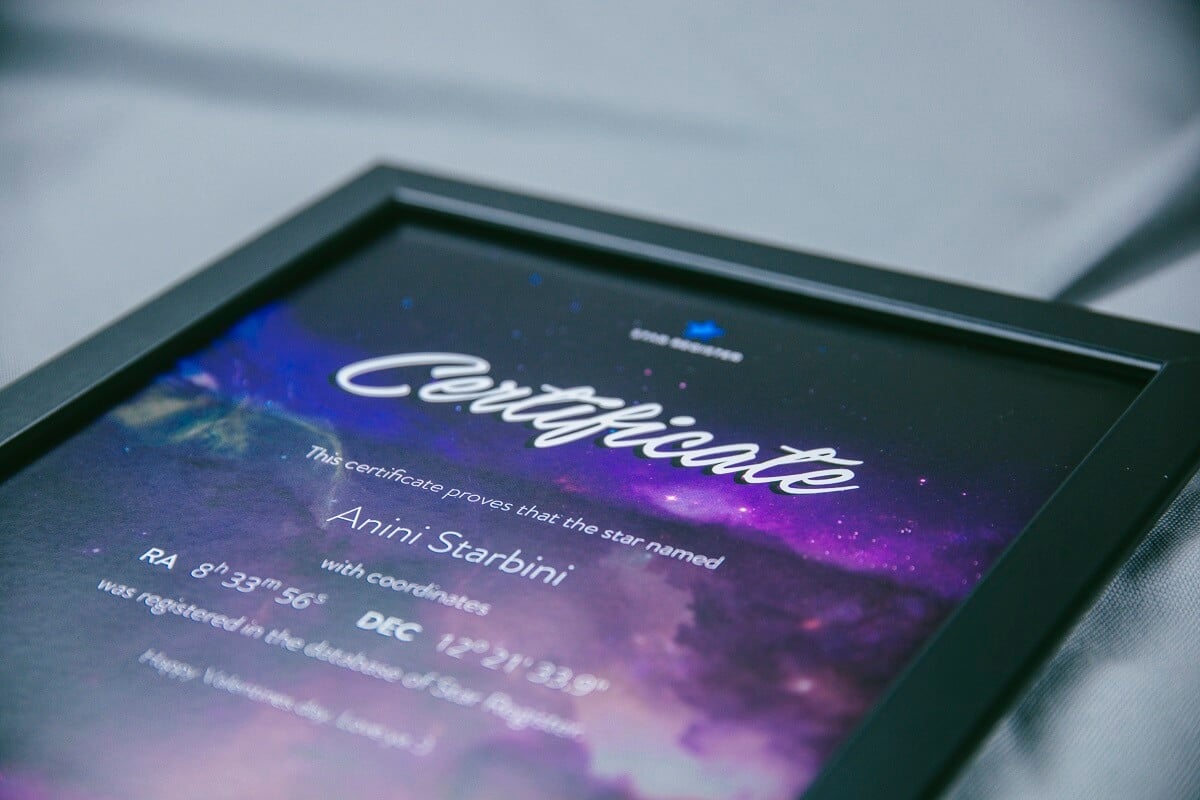 We truly understand that, on most occasions, Star certificates are used as gifts for bringing joy and delight to the loved people around us; thus, we always pay attention to our products' quality. In doing so, we always use the latest printing technologies available, which guarantees our customers the look and quality. Naming a star after someone is always a unique gift in its nature, and it is of the highest importance that the certification documents look astonishing when presented.
All our star gift packages consist of the following compo-
nets:
Star Certificate. This comes printed on a high-quality matte paper that is scratch resistant and looks awesome. Also, the document can last forever if taken care of. The certificate serves as proof of entry in the star catalog and outlines the registration's general information.
Star Map. The following has been printed on a high-quality glossy paper to give a shining effect. The map indicates the location of the star you have been assigned.
Original Star gift folder. The folder has been used to cover the printed materials and the purpose of customers to present their gifts stylishly. The folder has been designed to introduce the atmosphere of the space.
Current technical specifications: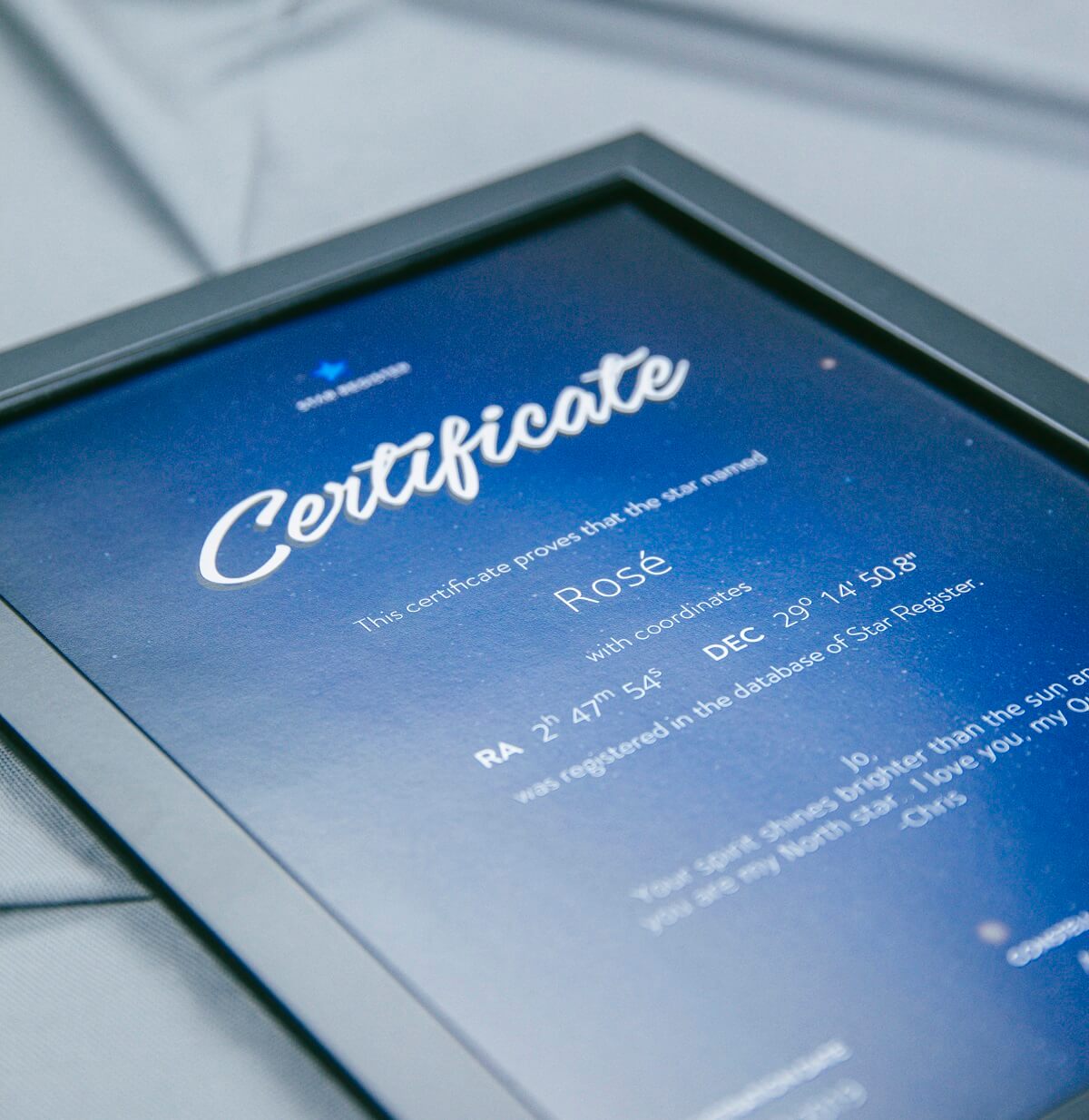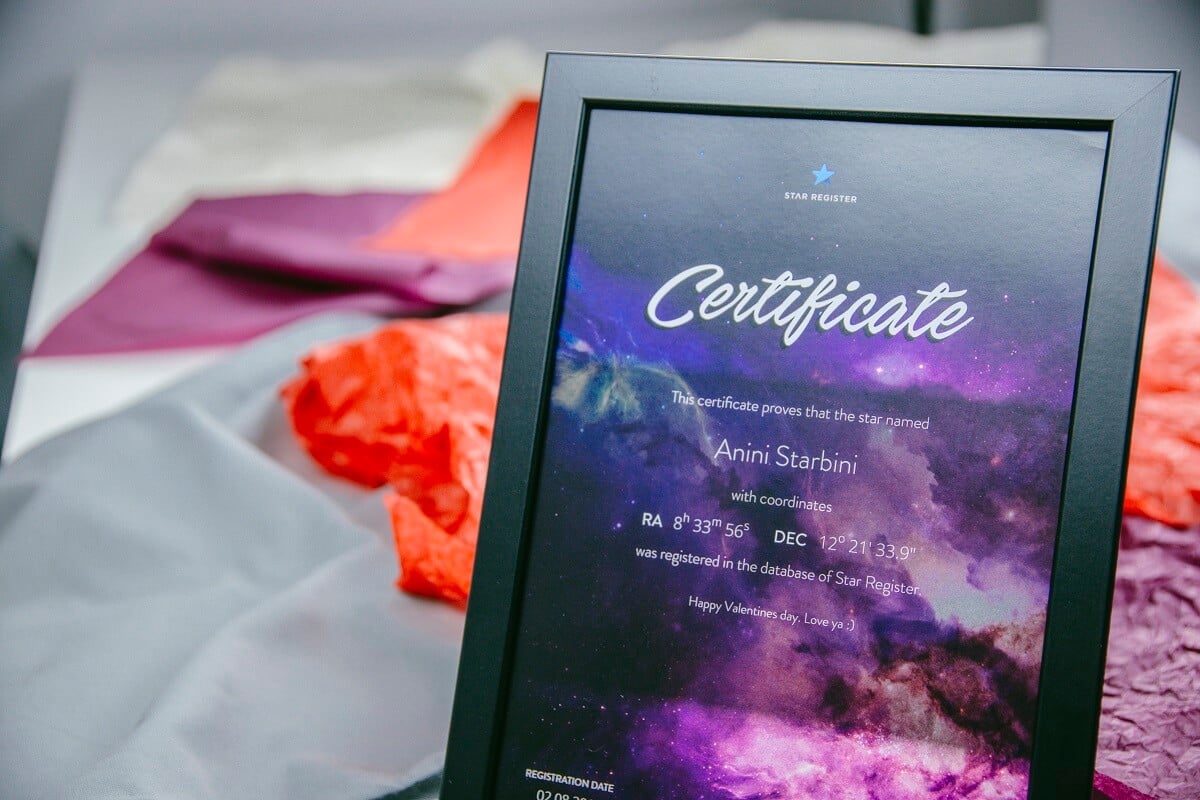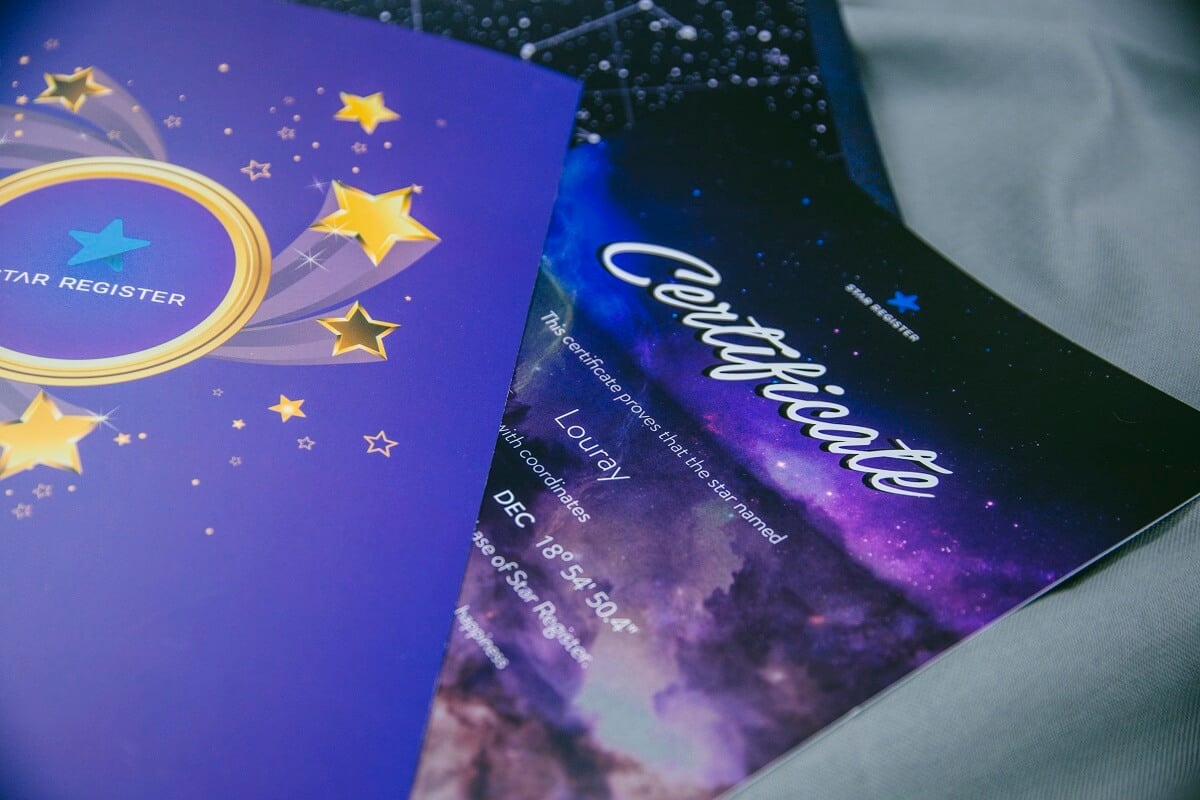 Printer
Epson UltraChrome HDR represents the latest generation of pigment ink technology. Utilizing ten colors - including an all-new Orange and Green - Epson UltraChrome HDR ink produces the widest color gamut ever. Even more remarkable, combining Epson UltraChrome HDR ink with new Epson AccuPhoto™ HDR screening technology dramatically raises the level of print quality and once again sets a new benchmark standard for photographic reproduction.
• Epson UltraChrome water based HDR ink-jet technology
• Basis Weight: 192 gsm
• Media Thickness: 10.3 mils (0.26 mm)
• ISO Brightness: 104%
• Opacity: 94%
Luster Paper
The same type of luster paper is traditionally used by wedding, portrait, and fine-art photographers for their work. Accurate colors and rich, bold blacks for vivid, lifelike images. Premium Luster Photo Paper delivers highly saturated prints by offering maximum ink coverage and a high D-Max for true photographic reproductions. Its 10-mil RC base gives prints a photographic feel and keeps the paper cockle-free.
• Epson Ultra Premium Luster Photo Paper
• Museum-quality print made on thick and durable paper
• Between a gloss and matte finish
• Highly saturated, maximum ink coverage
• Fingerprint resistant
• Perfect for framing