NAME A STAR FOR REMEMBRANCE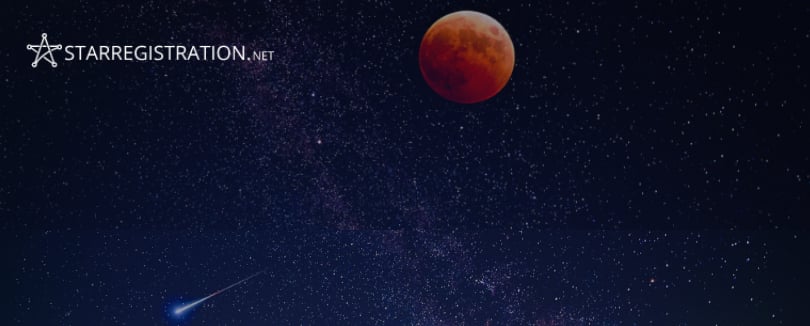 "It is the secret of the world that all things subsist and do not die, but retire a little from sight and afterward return." (Ralph Waldo Emerson)
Human life, as such, is inexplicably sublime and intricate, yet so fragile. The end of this life has an even more profound effect. Each of us has had someone in their lives taken from this world, leaving us a little bit broken. And even though death ends a living, it will never stop the connections made here on earth, and it will never eliminate our memories together.
Name a star in memory of your loved one and create a bond that won't ever be broken. A memorial star is the right way of honoring your loved one's life, thus having an endless reminder of them that shines brightly up in the sky. It takes a minute to find a special person, an hour to appreciate them, and a day to love them, but it takes an entire lifetime to forget them.
Those who we love will never truly leave us. There are things that death cannot touch. Naming a star as a remembrance is the perfect way of keeping the person's spirit still in your life, shining bright with all the other stars out there.
Why name a star in memory of someone?
Star Certificate is an official service that offers people to name stars for anyone all around the world. Therefore, naming a star for a deceased person is a long-lasting gift given that the star shines brightly for many many years as the loving spirit of someone you deeply miss.
Candles don't grieve. Anything you lose comes around in another form. Why couldn't this form be a star? Everyone deserves to be a star one day! And when we have remembered everything, we grow afraid of what we may forget. A face, a voice, a smile? A birthday? An anniversary? No need to fear to forget, because the heart remembers always. Get a gift to remember a lost loved one: a real star within the Star database for this particular person in your life to make the remembrance more special.
There are many religions, beliefs, and sanctioned texts that describe death. Some might be more poetic, while others seem vaguer, though within them are so many detailed statements that it is hard to decide which one to believe. However, one is for sure. There is more in the afterlife than anyone could ever imagine. Even scientific facts teach us more about the mystery of life and death: the law of energy conservation. No one is actually gone being that their energy continuously ripples through this world. In fact, there is no need for a monumental legacy when even the slightest deed and the simple act of kindness will echo within people forever.
The best gifts to remember a lost loved one
Let's be truthful; no earthly possesions will ever bring back the ones we love and truly miss. Everyone knows that parting is hard, and we cope with grief very differently. We learn to live with it mostly because we know that the person who left this world would never want to see us suffer. Who can say that we need to move on? Nonsense. Our loved one is always with us. Maybe we need to feel that presence with physical proof: the star certificate, or anything that makes us sure of this unbreakable connection.
Other times, it is not you that goes through a hard time, but someone close to you. Some even say that it is harder to watch others suffer than go through it yourself since we can't be sure how to help. At this hard time, they need support more than ever. As we know, no gift can fill up that void in their soul; however, we can still prove to them that this person will never be forgotten, with the real star named after them.
The harsh is life and the fact that losing a loved one isn't easy. The best thing to do is keep them with you, whatever way we can. Someone might write a poem; others will frame pictures taken together and hang them on the wall. There is no wrong answer here. Whatever you do, even if you choose to get a star named after them, you will still know that they are looking down on you like a guardian angel. They are up there, you know it, shining as bright and beautiful as they did here on the earth.
How do you name a star in memory of someone?
The universe is such a fascinating place; we can never doubt that there is nothing beyond. Thus, you must keep an open mind and save your loved ones' memory in your heart with Star gift service. To name a star after lost loved one, follow our guide:
Please choose one of the Star gift packages depending on your budget and the meaningful message behind it. You can select Standard Star with registration in any constellation of your Skyview, because it never mattered to your loved one where he/she was, as long as they were with you. You can also catalog a Zodiac Star for your loved one because you feel that they can be within their origin sign. Or you can choose an exclusive Binary Star gift package, where two stars close to each other appear as one - for two lovers, friends united in the sky.

Decide upon the name for your star, choose registration date and star brightness. You can also type a personal message In Memorium of a lost relative.

You can select several physical copies and add a fitting frame if you already know that this gift will stay framed for everyone to see.

If all the star details are correct and as you wanted, then add your star to the cart.

You need to fill in your billing information and shipping details to receive your Star Certificate documents at the checkout. Make sure that all the information is correct.

Choose the shipping method that matches your expectations to receive your gift promptly.

Check all the information again, and if all is correct, place an order!
We will assign you a star, and you will receive an electronic version of your Star Certificate and Star map within your email in 5 minutes. If you chose physical delivery, we will send the documents to production and ship them as soon as they are ready.
No one is truly lost when they remain in the hearts and minds of those who love them. Closed eyes, heart not beating, but a living love. Name a star and let their memory shine beautifully in the universe for all the family and friends.
Frequently asked questions
How do you name a star in memory of someone?
Memorial star is the right way of honoring the life of your loved one. To get your own star, you need to follow these steps:
1. Choose a star name

2. Decide upon the constellation

3. Select Star Certificate design

4. Add your star to cart
Is star database legit?
Star database is the legit and official organization that allows people to register stars all over the globe. This is very innovative and a unique service where anyone can register a star online that will be a part of your home's favorite sky view.
What does it cost to name a star?
Star Registration is a really affordable yet meaningful gift option that no other gifts can be compared to. You can choose a star gift pack that suits your budget and only from 29$ have your own star in the sky.
Can you buy a star from NASA?
Unfortunately, you can't buy a star from NASA. They deal with Universe exploration, not with star naming. However, you can get a real star with Star Registration service with official registration documents.
What do you write on Star Certificate?
Star Certificate includes not only the star's name but even shows the actual coordinates for your star. You can add a personal message for your certificate to make it more personal.