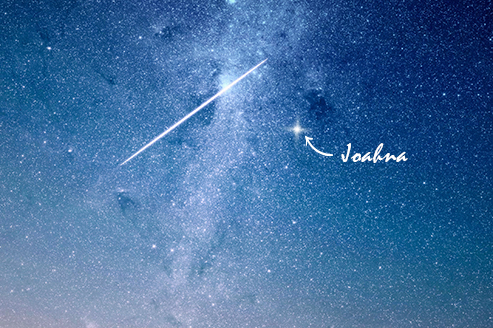 Stars are unarguably one of the most fascinating objects ever known to us. Their captivating mysteries and brilliance have kept us intrigued throughout the ages. From the ancient periods where philosophers spent hours gazing at the enigmatic sky, to the recent times where we are attempting to solve the puzzles of the universe with the help of these sparkling diamonds, they have always kept us entranced.
It is estimated that in our observable universe, there are more than a billion trillion stars, scattered across millions of galaxies. To put things into perspective for you, try writing one followed by 25 zeros. That is the approximate number of stars which exist in the cosmos.
Out of these many, it is only a few thousands which are visible to the naked eye. Of course with the help of a powerful telescope, you can spot even the farthest of the stars lying millions and millions of miles away.
Now, here is the best part – there are more than enough stars for everybody to name them whatever they please. Yes, you have read it right. You can name a celestial object out there to your heart's desire!
Sounds pretty exciting, doesn't it? Just imagine, naming a star after your better half. These celestial objects have been the center of poetry and beauty the whole time. Great writers like William Shakespeare and Victor Hugo have often remarked about the splendor of these radiating pearls. Even today, many popular bands and artists have written songs which relate to the stars and their magnificence. As John Lennon once said, "We all shine on...like the moon and the stars and the sun...we all shine on...come on and on and on..."
These tiny pearls have always represented eternal love and brightness, spreading their radiance and joy to the others. Humans have found solace while looking at the infinite sky up there, embedded with the tiny spectacles of sheer glitter. Wouldn't it be wonderful to christen them after your loved one, to signify the eternal love you share?
And that is where we come in. We allow possibility for people to pick the unnamed stars which they like and allow them to name it to their liking. You can browse through our database, which has more than 50,000 stars already named! We have helped many lovers in securing this beautiful present for their significant others, and even their relatives! Be it a wedding present or a surprise gift for your love, naming a star is certainly the way.
name-a-star.co.uk is one of our many partner sites, which has helped people in naming the stars in the region of United Kingdom and Ireland. We are currently expanding our horizons and venturing into different regions as well.
With our high quality images and database, you can be rest assured that you can find that perfect star to name. We are excellent at what we do, and our services will help you find that perfect present.